Ghadames, jewel of the Sahara
Taha, our guide for the day, is excellent and most of the group, like me, loved exploring the old city - even though the museum has decided to shut early at 11am instead of 1pm and even despite my camera being whisked off in the truck when it had to take two people to the hospital for checkups.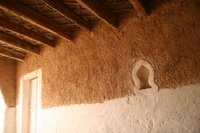 The old city was atmospheric and provided an intriguing insight into the wisdom of the ancient town planners. They certainly knew what they were doing and managed to design in features such as natural air conditioning; separate pathways for men (ground level) and women (over the roofs) that were not meant to mix in public; ways to deal with the occasional rains (perhaps 4-6 times a year in spring) that posed a threat to the integrity of the mud-built buildings; natural lighting and ventilation from amazingly efficient light wells along the streets; a water system that both rationed the spring water and kept time; and recreational areas for kids far from the quiet zones of the mosque and gentlemen's communal areas.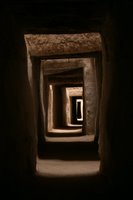 Perhaps Dubai's architects should take note and try to build some similarly unique complexes. Surely naturally air conditioned, lit and ventilated opaque buildings would be far more of a statement than more and bigger skyscrapers built on the sandy ground?
The old town has, more or less, been completely abandoned now. The former residents still own their old houses, but everyone has been moved to a 'modern' city built by Gadaffi just outside the old city walls (outside observers seem to like to claim it was a forced eviction, the locals I managed to ask all said it was voluntary).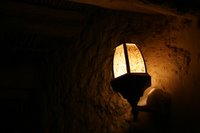 The big differences between the old and new homes are aircon, electricity and runing water. Aircon wasn't needed in the old city and electricity had, more or less, been introduced but the lack of running water and sanitation in the old city was a real problem.