Sabratha, part of the ancient Roman Tripolis
Sabratha, some unknown site to visit at the end of our time in Libya. A filler for our last day, something to break up the trip to the Tunisian border. Or so I thought.
I was very wrong.
Sabratha was probably my favourite ancient site in Libya.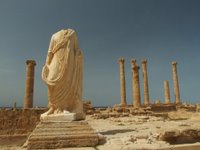 As much as Leptis does not feel like the bustling town it once was (see my previous
Leptis Magna
post), Sabratha does. The site is fairly compact, with ruined temples, houses, gateways, baths and the forum. And as you wander in the spring sunshine, the scent of flowers in your nose, the sound of the sea in the distance, you can so easily imagine being in a different time.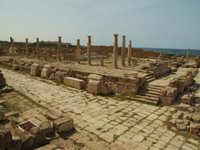 The sun on your face, warming your body. The flowers' perfume welcome in your nostrils, a focus for your brain. The scent riding high above the city's usual stench. The ocean's murmur blending into the background hubbub of the citizens. And you make your way to the forum, perhaps meet a business associate and head to the baths together.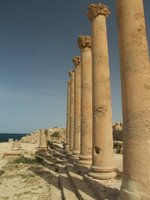 After the afternoon's ablutions and the conclusion of your affairs you head to the Temple of Isis. Make a bargain with the goddess there: if you could just ensure that my son returns safely from Rome on his sea voyage tonight, I will sacrifice two of the finest ducks in your honour - goddess, hear my plea. You had thought about this for a while earlier, and decided that Isis was the best deity to approach, as both protector and patron goddess of sailors.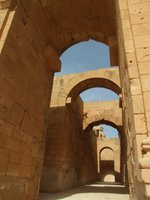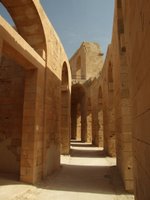 And from there you wander south, in no particular rush, with plenty of time until your daughter's performance in the theatre this evening. You arrive at the theatre early, the slaves on the door know you well and welcome you by name. They allow you in to the theatre even though it is more than an hour before the performance, and you walk through the arched corridors before climbing up to the gods to survey the stage.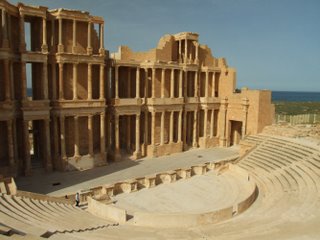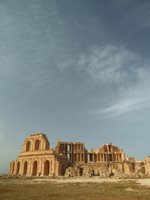 What a theatre. What a place for people to ply their trade. Such a glorious setting - to your eyes the match of any in Rome itself.
Breathtaking.
And that's Sabratha.